IVA calculator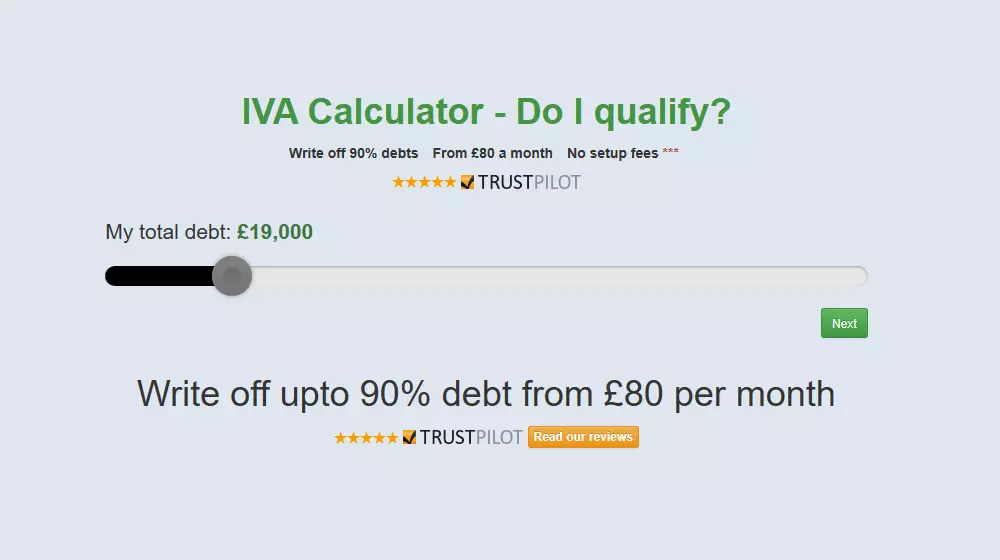 Use our free IVA Calculator to check if you qualify for an iva and how much of your debt you can write off! No setup fees.
IVA - Individual Voluntary Arrangement
An IVA - Individual Voluntary Arrangement is a legally-binding agreement between you and your creditors writing off up to 90% of your debts. It means reaching a compromise with your creditors to settle your debts within a reasonable, fixed period of time and at the same time, avoid the consequences of bankruptcy. Most IVAs last for five or six years.
The insolvency practitioner prepares your IVA proposal and deals with your creditors throughout the life of the IVA.
Read more and check if you are eligible for Individual Voluntary Arrangement. Also read: What does an IVA do to your credit record?
Eligibility
You will have over £10,000 of unsecured debt.
Your assets (equity in a house, car) will not be enough for you to clear all debt through selling the asset.
You are able to make monthly repayments of £100 or over, to pay into the IVA.
You will live in England, Wales or N Ireland (residents in Scotland will need to consider a Trust Deed instead).
Alternatively, you can consider Full and Final IVA, where your debtors can offer you to pay a lump sum settlement amount to clear your whole debt. This lump sum amount is usually much less than the full amount that you owe to pay towards your debts.
Debts you can include
You can include any type of unsecured debts. Normally following types of non-priority debts are included.
Bank and Building society loans and overdrafts,
Catalogues,
Charge cards,
Personal loans,
Store cards.
You can also include priority debts listed below.
Council tax arrears,
Tax debts,
Electricity and Gas debts.
Mortgages, secured loans and rent
You can include secured loans, mortgage or rent arrears in an IVA. However, your creditor will have to give their permission for it to be included and they are unlikely to do this.
Note: Debts which are secured against home are known as secured loans. If you can't pay the secured loads, lenders may take your home from you.
Starting an IVA - How an individual voluntary arrangement is set up
Anyone can consider an IVA to solve their debt problem. It can be set up for anyone regardless of their profession. Your ability to undertake an IVA is not defined by your job but you must be unable to repay your debts.
Read in detail on how to start an IVA.
IVA process explained
Once you have decided if the IVA is for you, we recommend that you talk to several IVA providers/companies. Choose one that you feel comfortable with and who has agreed to act on your behalf, you will then have to go through a number of actions with them before your IVA is finally put in place. These actions normally take between 4-6 weeks to complete. Once IVA is set up, you need to maintain your monthly payments for agreed time period (normally 5 years).
Read details of the action taken in 7 steps here: IVA Process. Your name remains in Insolvency register through out your IVA.
IVA Advantages and Disadvantages
Read detail with description of each point here: IVA Pros and Cons
| # | IVA Advantages / Pros | IVA Disadvantages / Cons |
| --- | --- | --- |
| 1. | Debt Free in 5 Years. | Stick to a regimented regime for 5 years. |
| 2. | Telephone Calls and Payment Demands Stopped. | £6,000 Minimum Level of Debt. |
| 3. | Interest and Late Payment Charges Frozen. | No Unsecured Borrowing During the Arrangement. |
| 4. | Single Monthly Payment. | Longer than Bankruptcy. |
| 5. | Protection for your home. | Possible Release of Home Equity. |
| 6. | Protection for certain assets. | You will pay back more than you will in bankruptcy. |
| 7. | Repaired Credit Rating. | Damaged Credit Rating for the duration of IVA. |
| 8. | Fixed, Legally Binding Agreement. | You must include all creditors. |
| 9. | Protection from Court Action. | Some jobs do not allow the employee to be in an IVA. |
IVA Terms and Conditions
If you are considering an IVA or are in an IVA, you should make sure you know which terms and conditions apply to you and ensure you keep a copy for future reference.
Insolvency practitioners are within their rights to create their own terms and conditions, but over the years some standard formats have evolved which have been beneficial to the smooth running of the IVA for its duration.
Read full details here: IVA Terms and Conditions and IVA Glossary
The forum run by people who have been through an IVA. Ask questions, share your IVA story and get expert iva advice from forum experts.
Over 30,000 users
Over 650,000 posts
Useful forum topics
Below are some of the interesting and useful topics on our forum.